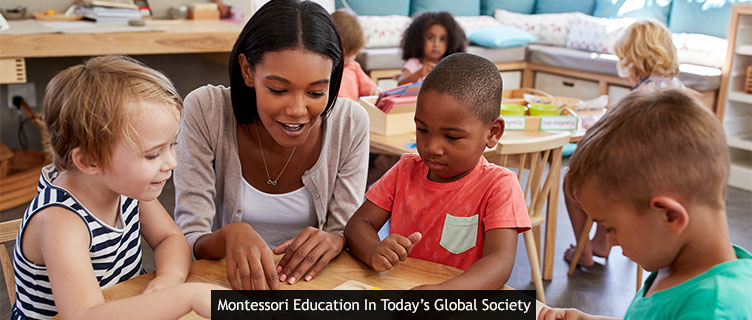 Montessori preschool education is much more than mere childcare and, when done correctly, can have a lifelong impact on a child and on entire communities.
In today's post, learn more about Montessori education in today's global society, and how you can transform childcare in your community with a Children's Magnet Montessori School franchise.
Child Centered
Montessori education is based on the natural development of the child with the inherent flexibility to adapt to the needs of the individual child, regardless of the level of ability, learning style, or social maturity.  In carefully prepared, hands-on learning environments, Montessori trained teachers guide children to discover the joys of learning develop social maturity and nurture their natural intellectual curiosity.  With children grouped in multi-age settings, the Montessori classroom is one of collaboration, creativity and cooperation, with older children freely sharing their knowledge with the younger children.  It is just one reason why our students consistently perform 1-3 grade levels above their public school counterparts.
Montessori and STEM Education
In this 21st century and the new global economy, an education with a STEM (Science, Technology, Engineering and Mathematics) focus is a critical step towards providing students with necessary technological literacy to thrive in our ever advancing world.  Montessori education inherently shares many of the hallmarks of STEM education including inquiry-based and hands-on learning, critical thinking, open-ended exploration and applying self-initiative.
At Children's Magnet, we have embraced STEM as a critical part of the education journey in our Montessori Plus (M+) curriculum.  Children learn the fundamental rules of science, technology, engineering and mathematics through the discovery of natural laws by working with didactic materials and problem solving in the Montessori classroom. Our Montessori Plus (M+) curriculum also incorporates other STEM activities through science related specialty programs such as FIRST LEGO League Jr.
Montessori in Our Global Society
Some of today's famous innovators and influencers were educated in the Montessori system including Amazon's Jeff Bezos, Google Founders Larry Page & Sergey Brin, and Wikipedia founder Jimmy Wales.  In fact, Page &Brin attribute part of their success to their early Montessori education that inspired them to be life-long learners."I think it was part of that training of not following rules and orders, and being self-motivated, questioning what's going on in the world and doing things a little bit differently," says Page CEO of Google.
 In fact, we believe that children in every community can be positively impacted by Montessori education regardless of demographics or socioeconomic background, and studies have supported this.
If you are ready to bring these unique benefits to your local community and invest in your own future, visit our website to learn all you need to know about our exciting franchise opportunities.
References
https://www.businessinsider.com/tech-innovators-who-went-to-montessori-school-2014-3
https://www.frontiersin.org/articles/10.3389/fpsyg.2017.01783/full
https://www.forbes.com/sites/stevedenning/2011/08/02/is-montessori-the-origin-of-google-amazon/#69339cd3467a